Sunday 18/07
:: 2pm ::
Slovakia, our 1st lunch on the road. Burgers & chicken strips I fried yesterday, plus mayo - probably the least sensible thing to consume on the road. We sit on a blanket behind a petrol station. I lay down in a shade of a single pine tree, looking at the sun through its branches/
'I feel like we're already by the sea.'
David says: 'Yeah, sure, but we've still got a huge chunk of road ahead before that happens.'
Arriving to Czech border with Slovakia took us two hours. I find it fascinating that the same journey on a bus, plane, train or a cruise ship requires a full vaccination or countless PCR tests, respirators and social distancing, passports and declarations, but crossing borders in car renders all of the above absolutely meaningless. There's absolutely no one checking anything.  One must wonder if there's any sense in all of these Covid restrictions when they're applied only selectively and differ depending on a country and mode of transport.
:: 4pm ::
I'm basically four, so finding it hugely entertaining to read Slovakian signposts out loud to a completely un-entertained driver. Billboards here in Slovakia have quite a different messaging. In neighbouring Czech it's all about: 'Put a stop to Corona. Get vaccinated. Period.'
Here, I see a picture of a distressed child in a mask receiving a vaccine through a giant needle and: 'Keep your hands away from our children. Stop the Corona totality.'
::5pm::
I wonder what our first night in the car will be like. I still worry about serial killers & mental asylum escapees - thanks for that, Netlfix true crime documentaries!
We've passed many charming Slovakian villages, but I'm sorry but Bratislava (Slovakian capital) is the antithesis to 'charming'.

::7pm::
Bratislava is so ugly, even the one above tried to strike it with lightning! Howerver, it wasn't until passing yet another abandoned border crossing to Hungary, that the rain caught up with us. And when it did, it came with vengeance & blood lust. Stopping twice due to absolutely zero visibility, I'm scared shitless! Serial killers be damned, nature is far scarier!
Can't make fun of the road signs here as they're unpronounceable for humans.
Battery at 2%. On a piece of paper, I wrote down some of those unpronounceable villages & towns that Google maps said we'd be passing - we'll navigate the old school way. But really, my feeling is we'll stop for a night soon. I see a blotch of green & blue a few km ahead. It looks suitably natural & away from people - they stare at David a lot over here.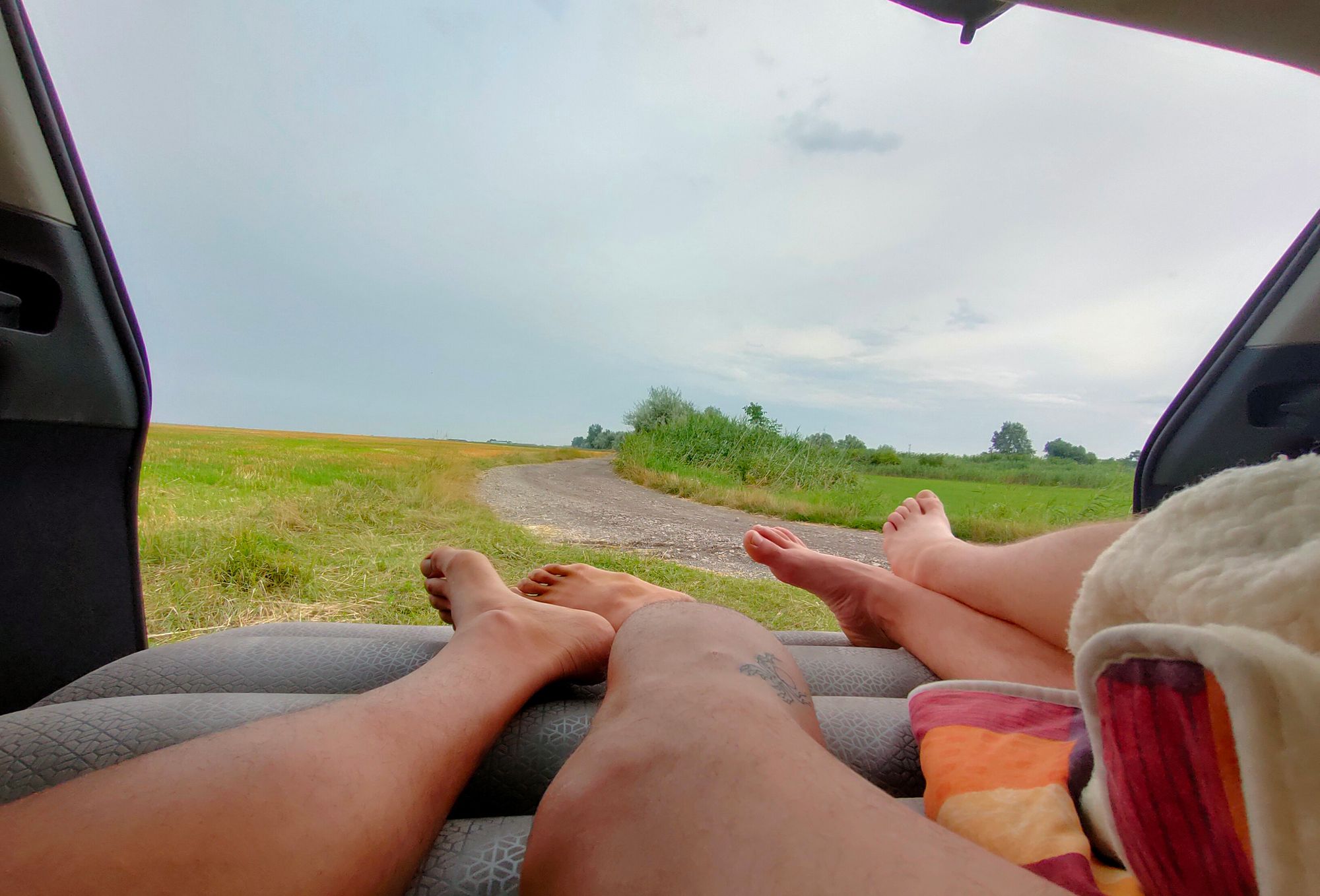 Monday 19/07
:: 8am ::
We ended up parking in the middle of some fields deep in Hungarian countryside, as the suspected nature reserve turned out to be an inaccessible marshland. Re-arranging our stuff to make space for an inflatable mattress, a quick horse bath from our 10l water container, brushing our teeth and ready to sleep in no time, almost like if we had done this million times before. Last couple hours driving through Hungary - a never-ending stretch of orchards, forests, sunflower fields, magnificent stork nests on every corner and the world's most bizarre radio stations.
:: 10am ::
Border crossing to Serbia. First passport check and a total dread that we could be refused entry due to having just one Pfizer jab and no PCR test. Of course, nobody cares, we pass through borders like a hot knife through butter. Botulism festival of petrol station coffee+last of our burgers with mayo.
:: 1pm ::
Passing through Serbia's second largest city - Novi Sady. In just a few minutes, we'll reach our destination - a village called Futog, home to our friend Dragan. We met him in 2019 during our doomed working stint on board Queen Mary 2, and we remained friends even though he made about 5k to our measly 600 dollars per month. Granted, as a massage therapist he had to rub a considerable number of rude British elderly passengers in order to climb up to that number.
On the ship, we've been mostly hanging out in a crew bar after work. I remember Dragan showing us pictures of the house he's building in Serbia. It's super bizarre to park our car in front of it now. To see each other out of our work uniforms, out on land. It's a beautiful strange commune on the river Danube. Dragan runs a few properties here as summer rentals. We hang out in one of his houseboats and eat super fresh fish. No thanks to us, as both mine and David's fishing line ended up tangled in tree branches. Super elegant swan parents and their super inelegant children pay us a visit. So does an absolute stunner of a Kingfisher  - the first I've seen outside David Attenborough's films. Danube is magical. We took a boat ride to spot some beavers (haha, very funny) and herons and drunk fishermen.
'Do you guys consider yourself hippies?' Dragan asked that evening, as we tried to repell mosquitos by diluting our blood with Rakia (a popular and deadly Balkan fruit spirit). We said no. We are us. Trying to do life in a way that feels more authentic than what capitalism has to offer (to me it offers nothing and asks for everything in return).
'But do you like..rent some properties or live off some trust funds? How do you plan to support yourself?'
We have no fucking clue. We're on a mission to find out. If we do, we'll let you know. But even if we don't, spending a lifetime trying to live authentically is still not a life wasted.
Tuesday 21/07
:: 10am ::
We spent the night at Dragan's parents. He had to leave early in the morning. A son of one of his guests has been mauled by a stray dog and there are some medical, insurance and human affairs to sort. Dragan's mum seems and sounds super severe, but is in fact an absolute champion of Slavic hospitality. Both last night and this morning she whisked up a feast for us and we try to express our gratitude using Google Translator. She doesn't speak english, but myself being Czech (also a Slavic language), I find Serbian quite easy. 'We're taking your dog and your cat with us,' I said in Serbian, because we totally fell in love with the family pets. Dragan's mum made the international 'Pay Me' hand gesture: 'How much?'
:: 3pm ::
Serbian mountain town of Dimitrovgrad. 62km to Sofia and our last stop. There's something very Crimson Rivers-like about all these mountain settlements. Amongst all that imposing natural beauty, there's something clockwork-like and rusty, slightly sinister and to me hugely fascinating.
:: 6pm ::
We made it!!! The very last stretch of the road proved to be the most arduous. Never-ending cue at the Bulgarian borders. We're required to take an antigen test within 24hrs of arriving, otherwise Bulgarian police will come knocking. Once again, we're super lucky - our friend Florent - a French expat in Sofia - is leaving back to France for the summer in a few days and will let us squat in his flat in the meantime. We parked in front of his apartment and went to join him and his friends for some well-deserved drinks. There's Florent's best friend Zoya, who's Bulgarian, and Paloma and Oscar from Paris, ugh, but we forgive them. Delicious drinks followed by a delicious dinner. Instant connections. I feel like we'll click well into this group of people and this lifestyle.
This is how our Bulgarian chapter started. I wonder what kind of story it's going to be. I'll keep you posted. Leka nosht !
---